fuel dispenser flow metergasoline flow meterflowmeter flow meter
添加时间:2019/5/15 15:42:51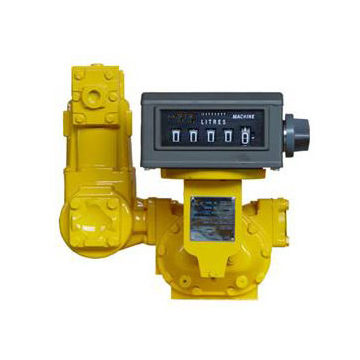 Overview
Quick Details
Place of Origin:

Shanghai, China (Mainland)
Brand Name:

mac-beyond
Model Number:

M-50-KX-1
Product Name:

Positive Displacement Flow Mete
Medium:

Oil
Accuracy:

0.2%
Repeatability:

<=0.07%
Size:

50mm / 2 "
Volume/Rev.:

0.681L
Max.Pressure:

10Bar/150PSI
Supply Ability
Supply Ability:

100000 Piece/Pieces per Week
Packaging & Delivery
Packaging Details

wooden case
Port

shanghai,China
•Excellent stepless adjusting mechanism allows a micro adjustment of the meter
•High accuracy and repeatability over the widest range of flow; Superior accuracy at constant flow
•Low maintenance, no metal-to-metal contact in measuring chamber, long life service
•Low pressure loss, a true gravity flow meter
•Accuracy regardless of pressure fluctuations, temperature variation, viscosity
•Choice of aluminum, cast iron and stainless steel materials of construction
M-50-KX-1 Preset Meter with Register,
Preset Register,
Specification

Model

M-40-1

M-50-1

M-50H-1

M-80-1

M-80H-1

M-100-1

M-100H-1

M-150-1

M-150H-1

Size

40mm /1.5"

Volume/Rev.


0.309L

Flow Range
(L/Min)

25-250

38-380

55-550

75-750

115-1150

130-1300

170-1700

225-2250

300-3000

Max.Pressure

25Bar/350PSI

Accuracy

Repeatability

Standard Measurement

Liter / US Gallon/IMP Gallon

Viscosity


Industries

• Automotive;
• Adhesives;
• Agriculture;
• Asphalt ;
• Aviation fueling ;
• Animal feeds; Beverage;
• Cosmetics ;
• Chemical processing;
• Concrete Add mixtures;
• Dairy; Liquid fertilizers;
• Food processing ;
• Fuel oil delivery;
• General industrial;
• Hydrocarbon processing;
• Liquefied gases;
• Lube oils; Marine;
• Paint and varnish;
• Petroleum marketing;
• Petroleum production ;
• Pharmaceutical;
• Printing ink;
• Pulp &paper;
• Refining commercial Solvents;
• Recycling Railroad ;
• Textile.




Application
• Refined petroleum products;
• Aviation gasolines and jet fuels;
• A wide variety of products such as: liquid sugars, corn syrup, corn
sweetners, dextrose,fructose, sucrose, maltose, lactose, corn oil,
soy bean oil, cotton seed oil, coconut oil;
• Treated waters (deionized, demineralized, and potable);
• Chlorinated solvents and general solvent metering;
• Acid pH liquids;
• Liquefied petroleum gas(LPG);
• Crude oil, also for heated and/or viscous liquids;
• Oil or water based latex products, polyester resins,
and adhesives (neutral pH), also for metering herbicides and
nitrogen fertilizer solutions;
• Herbicide;
• Sodium hydroxide (caustic) solutions, high sulfur crude oil (LACT
and NOD) and other alkaline pH liquids;
• Abrasive liquids.
V & VS series Piston Valves
V series Mechanically actuated piston valves are designed for mounting on the meter outlet to completely shutoff the liquid flow with easy operation under any pressure system. The valve can be operated manually or connected via a mechanical linkage to a preset counter on the meter for single stage closure or two-stage closure to eliminate hydraulic shock. The valve is indexable in 90o turn for up & down or side facing outlet. 2",3",4" available for option.
V-80 Piston Valve






K Series Air Activated Differential Check Valve
K Series Air Activated Differential Check Valves are installed at the outlet of the meter, which is designed to stop the flow of liquid whenever air is present to ensure accurate measurement.
K-80 Check Valve
V-50-LPG Differential Valve
The differential valve is mounted at the outlet of the meter and connected with the vapor eliminator with the function to shut off the liquid flow whenever vapor occurs in the tube system. The valve maintains sufficient pressure to ensure the high-vapor pressure products, such as LPG & Anhydrous Ammonia (NH3) to be always remained in liquid state. The valve is spring loaded and to fail if closed.
V-50-LPG Differential Valve